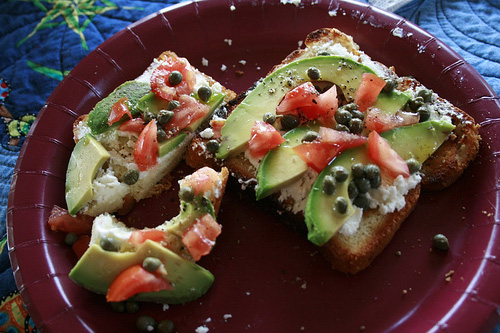 O abacate é um fruto com muitos benefícios para a saúde. Ajuda a hidratar a pele e os cabelos, a melhorar a circulação sanguínea por conter gorduras saudáveis como o Ómega 3, que actua como antioxidante e melhora o controlo do colesterol. Além disso, o abacate também ajuda a melhorar o rendimento do treino por ser rico em energia e a prevenir doenças cardíacas e cancerígenas, por ser rico em vitaminas e antioxidantes que fortalecem o sistema imunológico e previnem a formação de arterosclerose.
Hoje trazemos uma sugestão de receita rápida com abacate, que serve para um pequeno almoço ou lanche ou, se servido com um acompanhamento, para uma refeição ligeira, super fácil de preparar.
Tostas de Abacate com mangericão
Ingredientes:
2 colheres pequenas de mostarda
2 fatias de pão integral torrado
½ abacate sem pele cortado às rodelas
½ tomate cortado em rodelas finas
1 colher pequena de azeite
4 folhas de mangericão picado
½ colher de linhaça moída
Modo de preparação:
Untar as torradas com a mostarda e por cima destas dispôr as rodelas de abacate e de tomate.
Deite o azeite em fio, juntar o mangericão
e a linhaça, e temperar com sal e pimenta a gosto.
Bom proveito!
Avocado is a fruit with many health benefits. It helps moisturize the skin and hair, improves blood circulation and contain healthy fats such as Omega 3 that acts as an antioxidant and improves the control of cholesterol. In addition, avocados also helps to improve the performance of training to be rich in energy and prevent heart disease and cancer, because they are rich in vitamins and antioxidants that strengthen the immune system and prevent the formation of atherosclerosis .
Today we bring a hint of quick recipe with avocad, which serves a healthy breakfast or snack or, if served with a salad, can serve a light meal, super easy to prepare.
Avocado and basil toast
Ingredients:
2 slices of toasted bread
½ avocado peeled cut into slices
½ tomato cut into thin slices
4 leaves of chopped basil
½ teaspoon of ground flaxseed
Preparation:
Grease toast with mustard and above these disposal the slices of avocado and tomato. Pour the olive oil into yarn, add the basil and flax, and season with salt and pepper. Enjoy!